Create one-to-one
website experiences


that matter to

your community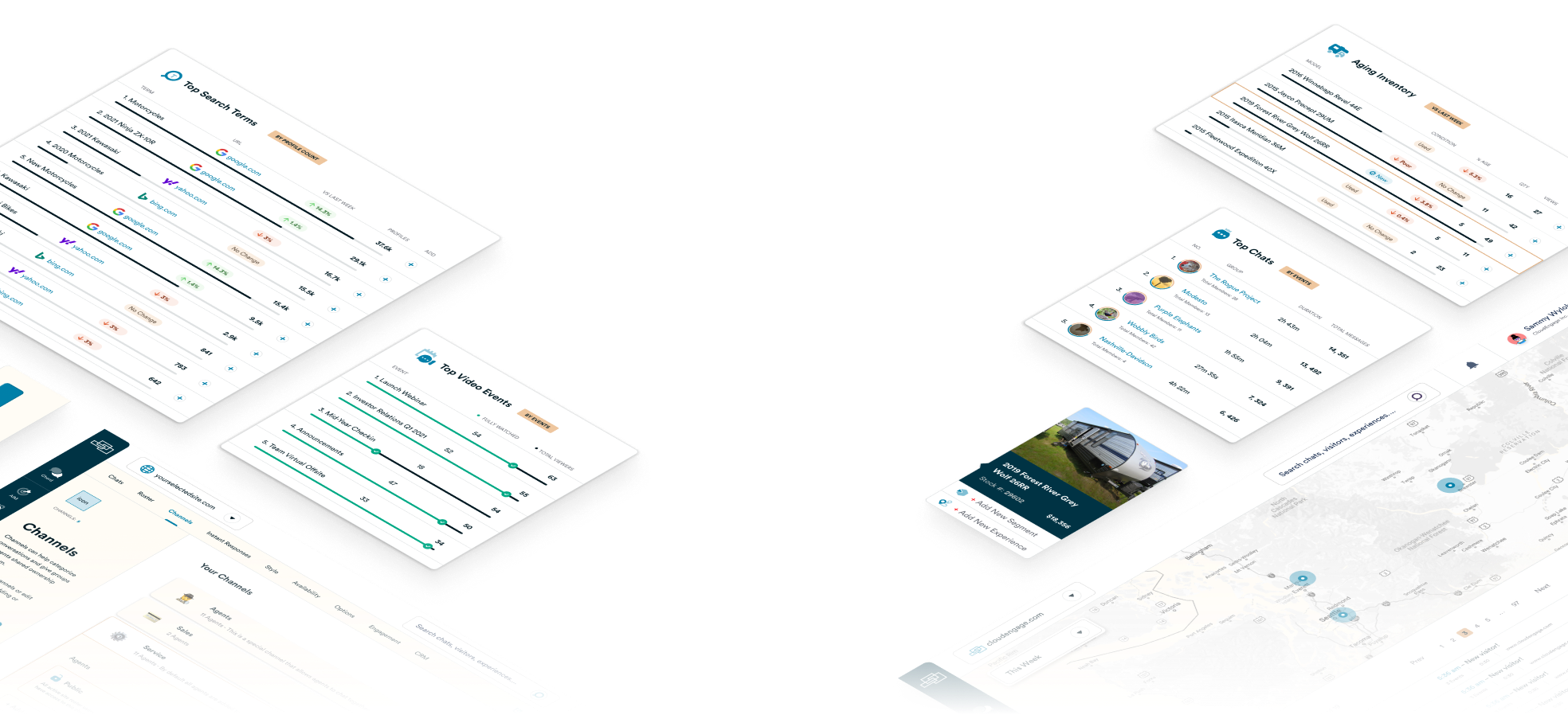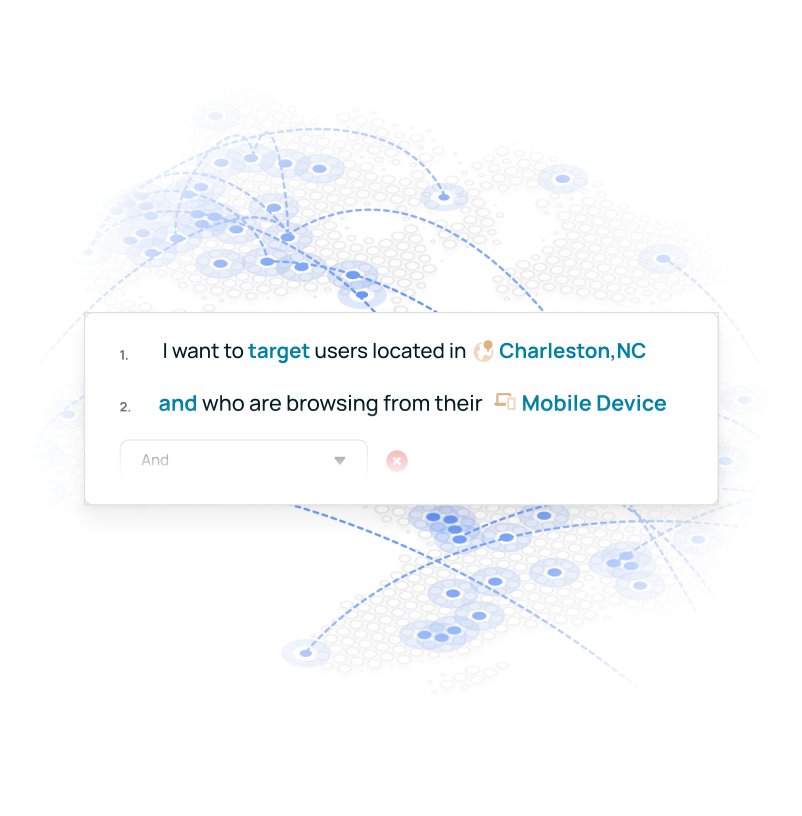 personalize
Campaigns Powered By Intelligent Audience Segments
CloudEngage helps you give your customers the most personalized, relevant, and intuitive experience possible when they visit your website. We work seamlessly with any CMS or commerce system to make it incredibly easy to personalize your customer's experience.
NO HASSLE
Setup in Minutes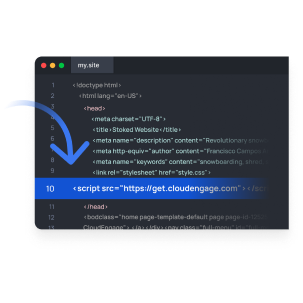 Step 1
Install the Script
Simple and fast, you can be up and running with CloudEngage in one minute.  Installing the script once enables you to turn on additional products with the touch of a button.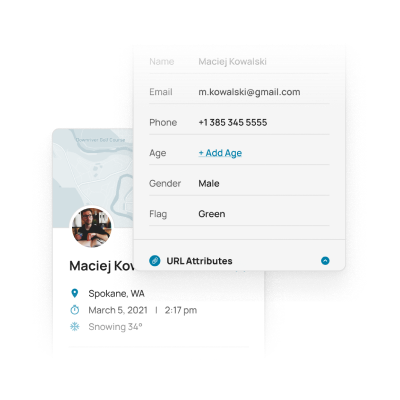 Step 2
Data Gathering Begins
High-speed data gathering starts the moment you install the script – how customer's find your website, and their intentions, actions and behaviors on it. Data-gathering is the foundation for creating unique experiences that drive website conversion.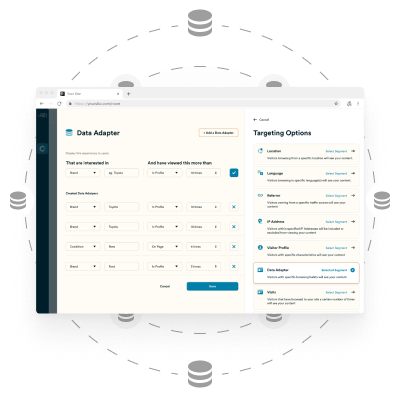 Step 3
Automatic Data Segments
Data segments are built automatically from the point of installation. If you sell something, we can turn on the data adapter and product variants create data segments that help you successfully manage the community of visitors on your site.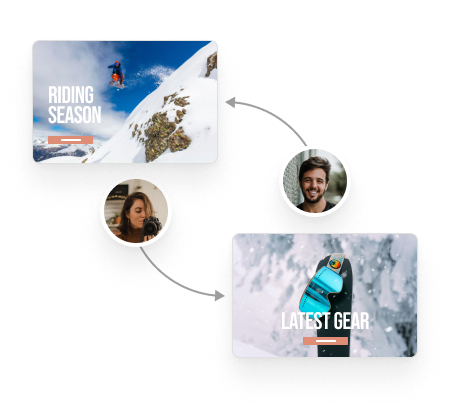 Step 4
Create Personalized Experiences
Easy and straightforward, you can directly modify web content including headlines, CTAs, and images to directly reflect the goals and intentions of your audiences. It's never been easier to create a custom experience that leads to conversion and success.
browser based
CMS-agnostic
It doesn't matter what CMS or Commerce system you use.  CloudEngage  creates unique experiences in less than 100ms, so your eye can't catch it but your customers will resonate with the messages that are tailored to them.

Features
Jam Packed with Features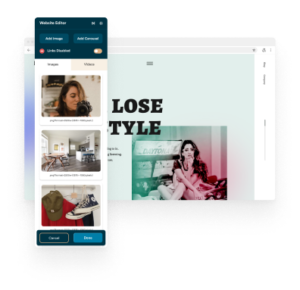 Website Experiences
No matter what your CMS or site technology, you directly edit text on your website, change a hero image, or add a welcome message that will just be viewable by the audience and settings you define.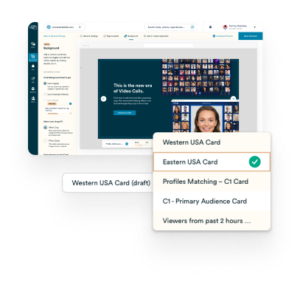 Carousels
With carousels you can create a single element with multiple slides, each of which you can customize the imagery, text and calls to action. You can define audience segmentation so that certain slides will only appear if that audience meets the segment profile.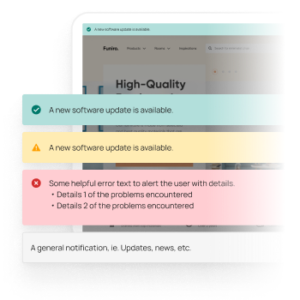 Alerts
Alerts are stupid simple, and super useful for you to make an announcement, tell your audience about a change or a problem, or give them a limited time offer. With targeting, you can have different alerts hit different parts of your audience.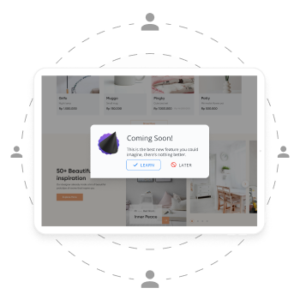 Popups & Overlays
Popups can be displayed to your entire audience, to personalized segments, all the way down to the individual. These are easy to make, they draw attention, and they land in the personalized inbox if a site visitor wants to recall them.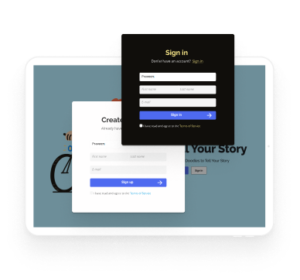 Forms
Forms make it easy for you to collect data, and flexibly push them across your properties. You can even inject them into a conversation or fire a popup. Forms are easily integrated with your email service provider and CRM.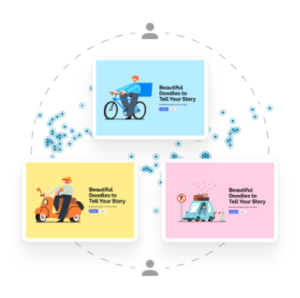 Dynamic Images
Dynamic images make it easy for you to use CloudEngage for all of your personalizations, including third party systems like email. Geography and weather will adapt the image based on the location and weather of the email opener.
testimonials
What they're saying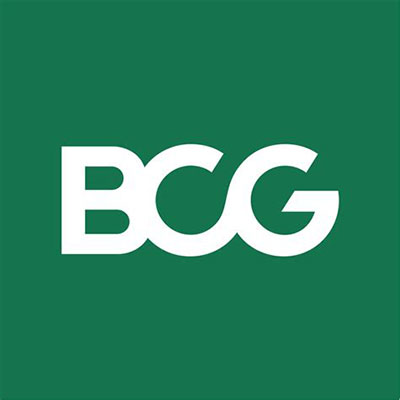 "Personalization is a game changer"
"Personalization is a game changer that will $800 billion of revenue to the 15% of companies that get it right over the next five years. The quest for personalization just got a lot more urgent."
– Study
Boston Consulting Group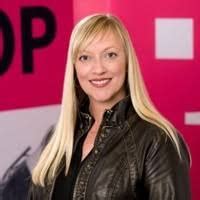 "This is the future of personalization."
"CloudEngage has been one of the most nimble, responsive organizations to work with. They enabled us to quickly and seamlessly deliver beautiful, geo-targeted, localized experience at scale when other solutions couldn't meet our timeline. Their hyper-local geofencing, time and weather targeting capabilities let us have smarter, more  relevant conversations with our customer so they understood our network and the features available in their local areas. "
– Deb Escher
Director of Digital Creative & Content Strategy, T-Mobile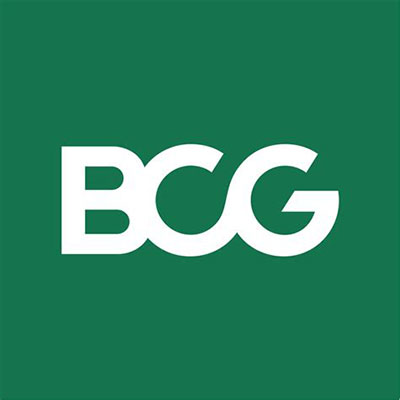 "83% of marketers who used personalization exceeded their revenue targets"
"Customer data allows marketers to segment buyers with ease and create tailored campaigns that speak to niche groups. Research shows this kind of marketing results in increased revenue. "
– Study
Boston Consulting Group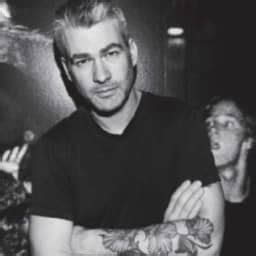 "CloudEngage campaigns consistently move the needle for us"
"We researched several omnichannel personalization options before choosing CloudEngage as our go-to platform for Dr Martens. The results we've seen since have been truly impressive. CloudEngage campaigns consistently move the needle for us, with significantly increased conversion rates and uplift in overall brand sentiment. Theplatform is incredibly user-friendly which made it easy to execute concepts and the solutions they provide are unique and innovative."
– Kyle Duford
VP, Global Digital & e-comm, Dr Martens
PLATFORM
$595
per month
Full personalization platform to increase web and mobile conversion rates. Actionable personalization that is incredibly simple to use.
Suite of CloudEngage personalization
Personalized Carousel
Audience Segments
Push Notification Channels
Includes AIM, 5 Chord Connect seats
Responsive and reliable customer support
*500k Page View Limit
ENTERPRISE
Get a Quote
price varies on scale and customization
Custom solutions for our Enterprise Partners that are tailored to the specific requirements for large-scale businesses.
Flexible terms
Enterprise-scale ops
Ultra performant
Agile engineering resources
Unlimited access to every CloudEngage feature
Dedicated and reliable customer support and customer success
take action

Get started today
Click the button below to schedule a tour of Personalize.
Have a question? Want to know more about our products or take a tour?
Contact us and we'll be glad to help.